Yogi Bear
2010 MOVIE - BluRay / DVD Release Date:
March 22, 2011
Below you'll find out when does «Yogi Bear» movie come out on dvd, blu-ray & online video streaming. Also discover where to buy & when to rent it in redbox, netflix, blockbuster, itunes, amazon & google play.

DVD RELEASE DATES:

THIS MOVIE IN THEATERS:

TRENDING Family Films:
Synopsis:
Everyone's favorite pic-a-nic basket-stealing bear comes to the big screen in "Yogi Bear," a new adventure, filmed in 3D, that combines live action with computer animation. Dan Aykroyd stars as the voice of Yogi, Jellystone Park's notorious troublemaker, and Justin Timberlake as the voice of Boo Boo, Yogi's faithful pal and co-conspirator in his never-ending schemes to separate park visitors from their lunches. Yogi has always relied on his quick wit and fast feet to stay one step ahead of irate campers while dodging his long-suffering nemesis, Ranger Smith. But he and Boo Boo are about to face a situation worse than anything Yogi has ever gotten them into... Jellystone Park is being sold! To cover his mismanagement of city funds and fuel his election campaign, Mayor Brown plans to sell the park to loggers. Families will no longer be able to experience the natural beauty of the outdoors Jellystone has always provided--and, even worse, Yogi, Boo Boo, and all their friends will be tossed out of the only home they've ever known. Faced with his biggest challenge ever, Yogi must prove he really is "smarter than the average bear," as he and Boo Boo join forces with Ranger Smith to find a way to save the park from closing forever.
«Yogi Bear» Buy & Online Streaming:
Movie release dates are subject to change and we verify them often.
Amazon Instant Video
Check
«Yogi Bear» Rental Release Dates: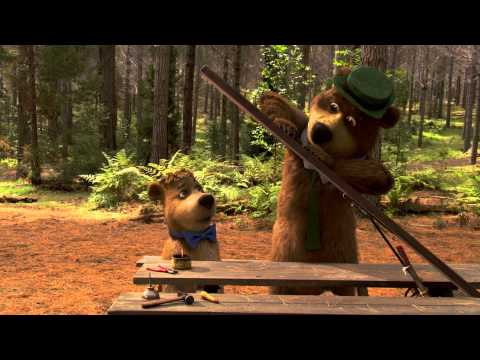 Average:

52

% out of

100

61,527
* Point your mouse on the rating to see details.